MADRID, March 30, 2011 (AFP) - A Spanish judge on Wednesday barred the country's football league (LFP) from staging a strike this weekend to protest broadcast rights.
The judge backed a suit filed by six first division clubs who had opposed the planned walkout.
Madrid Judge Purificacion Pujol decided to "suspend ... the agreement adopted by the (LFP) on February 11. As a result, the official calendar of the first and second divisions of the league cannot be changed," she said in a ruling.
Pujol on Tuesday heard depositions by the parties concerned: representatives of the LFP and those of six clubs opposed to the strike.
The LFP said it "respects the decision" of the judge but maintains its "demands of the government."
The association announced on February 11 its decision to call the strike for the weekend of April 2-3 to protest a long-standing rule that one first division match per weekend is broadcast for free on television.
Negotiations followed with political leaders to find a solution, but the LFP reiterated its decision last week.
But Espanyol Barcelona, Villarreal, Zaragoza, Athletic Bilbao, Real Sociedad and Sevilla then took legal action to try and prevent the strike.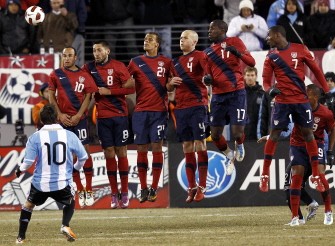 The United States lines up to defend a free kick by Lionel Messi #10 of Argentina, a Barcelona striker, during a friendly match at New Meadowlands Stadium on March 26, 2011 in East Rutherford, New Jersey, USA. AFP
They described the proposed action as "a disproportionate, untimely measure that is contrary to the interests of the clubs, the competition and the fans and is, in addition, contrary to the law".
The managing director and deputy chairman of Sevilla, Jose Maria Cruz, resigned on Tuesday from his post as vice-president of the LFP, the league said in a statement. It gave no reason for the decision.
A 1997 law allows one first division match per weekend to be broadcast for free on television, rather that on pay-per-view or cable.
Spanish media has said the LFP could receive an additional 150 million euros if the law was scrapped.
The strike would have meant the Spanish league season being extended to the weekend of June 11-12 instead of May 21-22.
A lawyer for the six clubs, Juan de Dios Crespo, had said Tuesday that if Pujol ruled their favour the other clubs would be legally obliged to play their scheduled matches or face sanctions.
Meanwhile, second division leaders Rayo Vallecano threatened not to play this weekend in a row over unpaid wages.
"We spoke about two things today - locking ourselves in the dressing room and the other option is refusing to play," said skipper Michel following a player meeting. "We haven't been paid for almost a year," he explained.