LONDON, Feb 6, 2011 (AFP) - Harry Redknapp believes Tottenham's challenge for a top four spot triggered Chelsea's record-breaking move for Fernando Torres on transfer deadline day.
Chelsea paid a British record £50 million to Liverpool for the Spain striker while also spending £23 million to bring in Benfica defender David Luiz.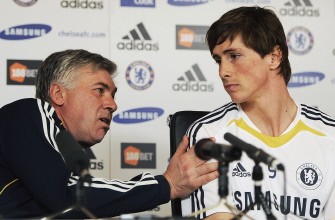 Chelsea's new signing, Spanish striker Fernando Torres (R) listens to Italian Manager Carlo Ancelotti (L) during a press conference at Chelsea's training grounds in Cobham, Surrey on February 4, 2011. AFP
And Redknapp claims Chelsea's spending was driven by concerns that last season's Premier League and FA Cup double winners might miss out on a place in next season's Champions League due to Tottenham's fine form.
"Maybe they got fearful they weren't going to make the Champions League," said Redknapp, whose side beat Bolton 2-1 on Saturday to remain just behind Chelsea in fifth place.
"A month ago everyone was saying if Tottenham are going to make it they have to finish above Chelsea and they did have a dip.
"But they have made two massive signings and I wouldn't write them off. If anyone finishes above Manchester United it will be Chelsea. But United are red-hot favourites."
Tottenham maintained their challenge in dramatic fashion through an added-time winner from substitute Niko Kranjcar.
That kept Spurs hot on Chelsea's heels and Redknapp admitted he was disappointed at his failure to make a big money signing during the transfer window.
"It would have been nice to bring someone in January," said Redknapp.
"I wanted Phil Neville about eight weeks ago, I thought he would have been good for morale around the club. Other than that I didn't really have anyone I definitely wanted.
"We have two England strikers (Peter Crouch and Jermain Defoe), plus Roman Pavlyuchenko and Rafael van der Vaart and I couldn't come up with anyone.
"(Guiseppe) Rossi (of Villareal) was £36 million and it all got too dear. The chairman would have paid the money if we had the right one. I couldn't say we definitely wanted him."
The Spurs manager believes Manchester City struck the best deal of the month when they signed Edin Dzeko from Wolfsburg for £27 million while claiming Liverpool's £35 million swoop for Newcastle's Andy Carroll is a gamble.
"Probably the boy who went to Man City was probably the best bargain," he added. "He was cheap if he is as good as everyone says he is.
"But other than that I couldn't put my life on a striker who we could have took.
"Andy Carroll was a gamble. I think he could be a huge success but he is not going to be fit for a while. We thought the quality Phil Neville has as a character might have been as important as bringing in a striker."
Van der Vaart set Tottenham on course for victory with a fifth minute penalty but will now miss Holland's midweek friendly with Austria with a calf strain.
Daniel Sturridge levelled for Bolton, his second goal in two games since arriving on loan from Chelsea.
Wanderers manager Owen Coyle believes the youngster will prove to be a good acquisition, mirroring the success of last season's temporary signing of Arsenal's Jack Wilshere.
"I think Sturridge will be a terrific player," Coyle said. "We will give him a platform to play. He's scored the goal and he's one of those players I love working with.
"I'm a football lover and I want to see good players on the pitch who can excite and he certainly does that.
"He can help Bolton and we can help him and he will then be well-placed in the summer to go and have the same impact Jack has had at Arsenal.
"Fabio Capello has made Jack an integral part of the (England) squad and Daniel has to have those aspirations. But first he has to do the job for Bolton."