Olympic Vietnam's 0-2 loss to hosts Saudi Arabia on Sunday can still deserve a heartfelt sympathy from the football fans due to their bold attempt in the qualifiers for next year's London Olympics.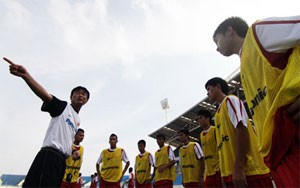 Olympic Vietnam coach Phan Thanh Hung (L) instructs his players in a training session in Vietnam (file photo)
If the two first matches of Vietnam Olympic and Vietnam National Football Team are put in a comparison, the loss of Vietnam Olympic Football Team should be more regarded for their results than the tie to Dong Nai Football Club of the National Football Team.
The reason for this sympathy is that the loss of Vietnam Olympic Team is loss of a team whose members mostly play with one another for the first time. Despite their playing in an unfamiliar formation with limited time practicing, they played quite good at least in their strategy. A 0-2 defeat, however, is a predictable result.
Efficiency should be highly aware of in this knock-out match and Phan Thanh Hung's team did not only play their essential role of a defensive team but also riposted if possible.
In a short report on the official website of Asian Football Confederation, many positive terms were used to describe Vietnam Olympic Team such as "Vietnam's stubborn defense" or "Vietnam threatened to equalize throughout the entertaining encounter".
It means that we can still place confidence in a better result of Vietnam in the second leg. 
It is necessary to compliment Vietnam Olympic Team for their great efforts in the first leg of the Olympics' qualifiers. However, it will be more wonderful if two-day training for the second leg can bring them a victory with an offensive mode.
The experience in the first leg in Saudi Arabia showed that the short –term concentration was not really a big obstacle. The footballers have to adapt themselves to this harsh condition because the concentration period is just enough for the lead coach to adjust the team's strategy for the nearest match.
Although the 0-2 loss to Saudi Arabia narrowed the path of Vietnam to the Olympic dream, Vietnam still has another chance in the second leg on next Thursday if they know how to develop their current playing style.
The second leg of the 2012 Olympics' qualifiers will be held at My Dinh Stadium on Thursday.