LONDON, Aug 21, 2011 (AFP) - Arsene Wenger responded to Arsenal's dismal 2-0 home defeat against Liverpool by insisting he does not feel under pressure and will never walk away from the club.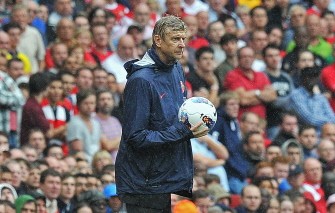 AFP - Arsenal manager Arsene Wenger holds the ball during the match between Arsenal and Liverpool
Wenger has come in for criticism for his failure to act decisively in the transfer market and David Dein, the former Arsenal vice-chairman, warned last week his close friend could reach a point where he would turn his back on the Emirates Stadium.
But Wenger, who was left frustrated as his side were beaten by two late goals after the dismissal of Emmanuel Frimpong, denied there was any possibility of him leaving.
"There is no chance I will walk away," he said. "I will continue to give my best for the club.
"We are at the start of the season and it is very disappointing that we lost. But there has not been an earthquake.
"We are living under circumstances where every defeat is perceived as a disgrace. I always feel under pressure, but no more than usual. I feel the result was harsh."
Wenger handed a start to Samir Nasri despite widespread reports that the French midfielder was just days away from a move to Manchester City.
Reports emerged from France that negotiations had stalled on Saturday, although Wenger insisted he did not know whether the move had broken down.
He claimed he never had any doubts about playing Nasri, but remained non-committal when asked whether the player would face Udinese in the second leg of the Champions League play-off round next week.
That would make Nasri cup-tied for that competition, making him a far less attractive a prospect for City.
"I have tried to keep Samir Nasri and have never changed my mind," Wenger said. "He loves this club. We might still have to sell him but at the moment he is happy here."
Wenger had no complaints about Frimpong's sending off although he insisted Luis Suarez was offside in the move that led to Arsenal debutant Ignasi Miquel firing a weak clearance into the chest of team-mate Aaron Ramsey before seeing the ball rebound into the Arsenal goal.
The Frenchman's mood was darkened further by the loss of yet another player to injury, this time defender Laurent Koscielny who suffered a back injury after 15 minutes.
Meanwhile, Liverpool manager Kenny Dalglish believes he now has a much stronger squad at his disposal but admitted the challenge was now to forge a winning team.
The Reds' depth was demonstrated by the introduction of Raul Meireles and Luis Suarez from the bench, with Suarez sealing the win in the 90th minute.
Dalglish admitted he may have made a mistake in starting Suarez in the opening game against Sunderland, shortly after the Uruguay striker returned from the Copa America.
"I'll be the one to judge his fitness but maybe last week I was being a bit romantic," he said.
"He looked sharp in training but maybe it was a bit too much for him. He didn't have the same energy. But he was sharp when he came on and gave us the goal we had been missing.
"I think we have a stronger squad than last season but whether that transforms itself into a better team is something we will find out."