CAPE TOWN, June 10, 2010 (AFP) - Former champions France go into their opening World Cup game against Uruguay in Cape Town on Friday battling a salvo of criticism, with nothing but victory enough to satisfy the sceptics.
Raymond Domenech's team have been in underwhelming form, losing 1-0 to China in a warm-up match last week, which followed a 2-1 win over Costa Rica and a 1-1 draw with Tunisia.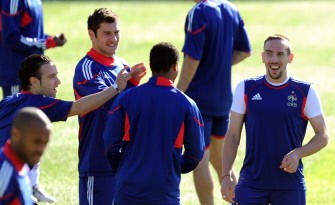 France's forward Franck Ribery (R) jokes with teammates during a training session at the Fields of Dreams stadium in Knysna on June 10. AFP photo
Since arriving in South Africa, they have adopted a siege-like mentality at their luxury five-star resort to focus on the job in hand, training mostly behind closed doors.
This has not gone down well with an irate French media, while Sports Minister Rama Yade caused a stir when she said the team should have shown some "decency" during hard economic times by not choosing such swanky accommodation.
Domenech, who is widely disliked in France and will be replaced by former skipper Laurent Blanc after the tournament, played down his squad's troubled build-up.
"There are 23 players who are ready. I don't think the word to use to describe the team is calm. We are determined, a bit aggressive and impatient," he said at his pre-match press conference.
"I've been saying for some time that we start on the 11th and that's all that matters. We have done all we need to do."
The fact that France are here at all still irks some after Thierry Henry's outrageous handball played such a pivotal role in their play-off victory over Ireland.
If that wasn't enough, the French team was then rocked by a sex scandal linking members of the team, including star player Franck Ribery, to an under-age call-girl.
The 1998 champions' consolation is that they are in a relatively easy group that also includes hosts South Africa and Mexico.
With Patrick Vieira failing to make the squad, France's lone 1998 survivor is Henry, although the veteran Barcelona striker is likely to be used as a super-sub.
William Gallas and Patrick Evra will lead at the back with Jeremy Toulalan and Abou Diaby shoring up midfield.
The emergence of Yoann Gourcuff, the talent of Ribery and the rejuvenation of Nicolas Anelka have given the coach a variety of options in attack, where Andre-Pierre Gignac and Florent Malouda will hope to feature.
For the Uruguayans, it is another chance to relive their glory days.
They collected the 1930 World Cup and repeated the feat in 1950, but since then have rarely made an impact at the global showpiece.
This time round expectations at home are not high and coach Oscar Tabarez is keen to ignore their past.
"My team is very enthusiastic and confident and I think we are in the right place at the right time. We are also cool and calm," he said Friday.
"The France squad has great footballers but they've been having difficulties." he added.
"They have very good defenders though, they never throw in the towel and they also push forward, which confirms that they will be very difficult opponents.
"But I think we can also make life difficult for them."
Tabarez has already named his team to face the French at Green Point Stadium with defender Mauricio Victorino and midfielder Egidio Arevalo Rios surprise choices.
Star striker Diego Forlan from Atletico Madrid will be partnered up front by Luis Suarez, who scored 35 goals for Ajax last season.

KEYS TO MATCH
Diego Forlan v William Gallas
Atletico Madrid striker Forlan has proven time and again that he has an eye for goal and a proven ability against top-class opposition. Gallas, France's commanding centre-half, will need to be at his consistent best to blunt Uruguay's ace up-the-sleeve though he has fitness concerns.