LONDON, March 30, 2011 (AFP) - Asamoah Gyan admits he was shocked when he scored the historic late goal that gave Ghana a dramatic 1-1 draw against England in a friendly at Wembley.
Gyan netted Ghana's equaliser with a fine solo effort in stoppage time to cancel out Andy Carroll's first-half strike for Fabio Capello's team on Tuesday.
The Sunderland striker become known across the globe when he wasted a chance to put Ghana into the World Cup semi-finals last year by missing a late penalty against Uruguay following Luis Suarez's infamous handball.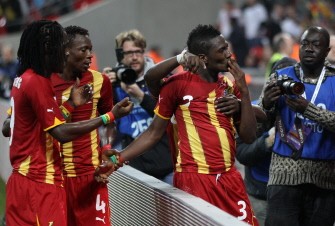 Ghana's Asomoah Gyan (2nd R) blows a kiss to the crowd after scoring his team's equaliser against England in an international friendly football match at Wembley Stadium on March 29, 2011. AFP
But Gyan hasn't dwelt on that agonising mistake and he went some way to erasing the memory by scoring Ghana's first goal against England in front of more than 20,000 of his country's fans at the English national stadium.
The 25-year-old twisted past England defender Joleon Lescott with ease before curling his shot into the far corner of Joe Hart's goal.
It was a superb goal, yet Gyan claimed he wasn't sure what he was doing.
"I was twisting and turning, but honestly, I didn't know what I was doing, I was just trying to protect the ball," he said.
"The English defenders are very intelligent, but they did not know if I was going to pass the ball, but I thought, well they might push me down, but they didn't do that, so I thought, I've got a chance, so I took my chance.
"This goal is something historic -- it's the first goal we've scored against England.
"It was fantastic to score. It was the first time we had played at Wembley. It has been a dream for everyone in Ghana to play here.
"We have been waiting for quite a long time to play at Wembley. A lot of Ghanaians have been asking why couldn't we play against England.
"Now we had that chance and we scored an important goal. It was really, really important for Ghanaians and for all the fans here."
Gyan's equaliser rewarded a Ghana side who refused to give up as the game entered its closing stages despite playing a tiring African Nations Cup qualifier against Congo just two days earlier.
However, Ghana struggled to cope defensively for much of the match and Gyan felt they were slightly fortunate to snatch a draw.
"It was an exciting game. The English dominated the game but we got a draw," Gyan said.
"Honestly they deserved to win because they dominated, passed the ball and played good football."
Gyan admitted Ghana had suffered from stage-fright in the first half of their first appearance at Wembley.
It took them a while to get going even though they were playing an England side without seven of the players who cruised to victory over Wales on Saturday, but Gyan was proud of the way they kept fighting.
"We went a goal behind but we fight. It was a bit difficult at times, but we were able to pass it and move better as the game went on," Gyan said.
"We worked hard to win this game and it didn't happen for a bit. We are not enemies with England but we wanted to show what we've got.
"They were really tough opponents. We are really happy for this draw because we missed a couple of chances in the first half and had some opportunities in the second half as well."