Sai Gon Giai Phong newspaper representatives have presented awards to the best three female football players of 2005, the winners of the annual voting organized by the newspaper.
The newspaper held the award ceremony on March 9, 2006 at District 8 Stadium in Ho Chi Minh City, in collaboration of Viet Nam Television, the Viet Nam Football Federation, the Ho Chi Minh City Football Association, and sponsors Hoang Anh Gia Lai, Vietnam Post and Telecommunications Corp. and Becamex IDC Corp.
Viet Nam captain Doan Thi Kim Chi, a Ho Chi Minh City player, received the Golden Ball with VND15 million. Ha Nam Club striker Van Thi Thanh took the Silver Ball with VND10 million and Ha Tay Club player Dao Thi Mien got the Bronze Ball together with VND7 million.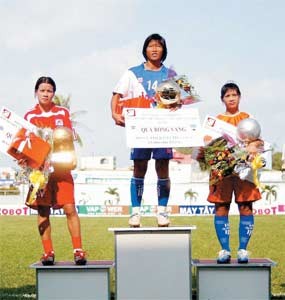 Doan Thi Kim Chi (C), Van Thi Thanh (R) and Doan Thi Mien (L) get their awards (Photo: SGGP)
The Golden Ball winner also received a VND7 million award from the Ho Chi Minh City Football Association.
The Sai Gon Giai Phong newspaper will present the men's Golden Ball to Viet Nam captain Phan Van Tai Em, a winger from the Dong Tam Tiles Club, on March 12. The Silver Ball and Bronze Ball for men went to winners Le Cong Vinh and Le Tan Tai one week before the female players received their awards.