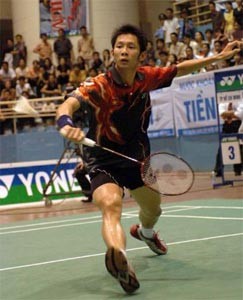 Vietnamese star Nguyen Tien Minh has to say goodbye to the tournament early.
The entire Vietnamese badminton team was knocked out of the 2007 Yonex-Sunrise Badminton Asia Championships yesterday.
Vietnamese star Nguyen Tien Minh lost 19/21, 11/21 to top Japanese racqueteer Sato Shoji, while Phuong Nam went down quickly 8/21, 11/21 to Hong Kong's Ng Wei.
In the men doubles, Duong Phuong Nam and Ngoc Tung were beaten 10/21, 3/21 by Lee Wan Wah and Choong Tan Fook from Malaysia; Duong Bao Duc and Nguyen Hoang Nam went down 16/21, 12/21 to India's Dewalkar Akshay and Sanyal Jishnu; and Dao Manh Thang and Bui Dang Duc were defeated 9/21, 19/21 by Thailand's Phattapol and Nuttaphon.