BLOEMFONTEIN, South Africa, June 18, 2010 (AFP) - Coach Otto Rehhagel said Greece still had a mountain to climb to reach the World Cup knockout phase after his side registered their first ever win at football's showpiece event.
Coming into Thursday's match against Nigeria, the Euro 2004 winners had never won a match - or scored a goal - in a World Cup finals, finishing pointless in their only other appearance, in the United States in 1994.
They started their campaign in South Africa with a 2-0 defeat to South Korea and their hopes hung by a thread when trailing Nigeria 1-0 Thursday before a red card for Nigeria's Sani Kaita changed the match.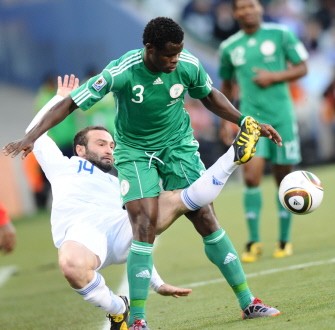 Greece's striker Dimitris Salpingidis (R) fights for the ball with Nigeria's defender Taye Taiwo during the football match Greece vs Nigeria on June 17, 2010. AFP
The Greeks came back to win the Group B clash 2-1 after a goal late in the first half by Dimitrios Salpingidis and a second half winner from Vasileios Torosidis.
"Unfortunately, the game started just like the last one and we went a goal down," said veteran coach Rehhagel.
"My team needed quite some time to recover. We were dominant after the red card, but there are plenty of examples where the team with the extra man goes on to lose.
"However, we reacted well to conceding the first goal, showed tremendous passion and belief, and turned the game around."
But the German coach said getting a result against table-topping Argentina next Tuesday would be tough, adding: "Argentina are world-class, they're clearly better than us."
"We still have a chance, but it'll be very hard. We're the underdogs against Argentina, that's for sure, but we'll give it our best shot. For now, we'll just enjoy the fact we've beaten Nigeria," he said.
Greek scorer Torosidis said: "I don't care what happens now. I'm just delighted for the team, and for the fans who never stopped believing in us."
The southern Europeans, renowned for being defensive-minded, peppered the Nigerian goal with 27 shots, including 11 on target, and enjoyed 56 percent of the possession as they made their extra man count.
Greece's win at Euro 2004 shocked the football world but they failed to qualify for the World Cup in 2006 and flopped at Euro 2008.
Argentina beat South Korea 4-1 in Johannesburg in the earlier Group B match to take their tally to six points. South Korea are on three points along with Greece, with Nigeria yet to register.
Nigeria play South Korea in Durban at the same time next Tuesday as the Argentina-Greece match in Polokwane.