Coach Falko Goetz is trying his best to affirm himself in the new position with the really convincing victory to Macau in the qualifiers of the 2014 World Cup in the next two week although this goal seems to be difficult.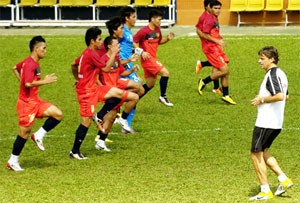 Coach Falko Goetz (white) and his footballers in the first training day (Photo: Ng. Nhan)
Vietnam Football Federation (VFF) seemed to be quite confident in Vietnam football team's defeating Macau that they allowed Falko Goetz to play the role of coach in the replacement of Coach Mai Duc Chung only a few weeks of his election.
Although the possibility that Vietnam football team wins Macau football team is quite obvious, what everyone expects to see is a convincing victory.
The German coach knows that Vietnam football is still quite new to him that he should use the squad chosen by former coach Calisto instead of constructing a new formation because he aims at gaining the stability and improvement.
Because of some inconsiderable issues in the Vietnam football team, he reluctantly chooses three tenderfeet. They are goalkeeper Thanh Binh from SHB Da Nang, Ngoc Anh from Song Lam Nghe An and Duy Nam from Ha Noi T&T.
Two weeks is the time limit for Falko Goetz to make a revolution and create new impression. It seems not to be easy for him because he has to try his best in inspiring the exhausted footballers from the V-League with their aspiration and motivation.