LONDON, Sept 2, 2010 (AFP) - Joe Hart believes he has the ability to finally end England's long search for a goalkeeper capable of earning headlines for heroics rather than howlers.
Ever since Arsenal keeper David Seaman retired from international football in 2002, England have struggled to find a top-class replacement as bad luck and bad form left a string of contenders flat on their backs.
Now Manchester City star Hart is being tipped to be his country's first choice for the next decade as he prepares for his competitive debut against Bulgaria on Friday after rising from third-choice during the World Cup to first-choice for the Euro 2012 qualifiers.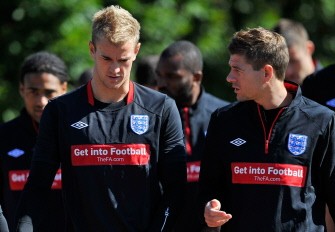 England's Steven Gerrard (R) talks to goalkeeper Joe Hart during a team training session at the their London Colney training ground, in central England on August 31, 2010. AFP
It is a big test for the 23-year-old because he knows so many others have tried and failed over the years.
Paul Robinson briefly looked to have cracked it before a terrible error in Croatia in 2006 saw him air-kick Gary Neville's back-pass and watch forlornly as the ball trickled into the net during a crucial defeat.
The former Spurs man, who now plays for Blackburn, quickly became a figure of fun and announced his retirement from international football recently after admitting the frustration of being yesterday's man became too much to bear.
Not that he is alone in the England hall of goalkeeping shame.
David James was unceremoniously dropped after a clanger in Austria in 2004 and never completely regained the nation's trust, while Scott Carson made an even worse mistake at home to Croatia in 2007, allowing Niko Kranjcar's weak shot to bounce off his gloves into the net as England failed to qualify for Euro 2008.
And, of course, Robert Green's woeful mistake against the United States in South Africa which allowed Clint Dempsey to equalise in a 1-1 draw probably tops the lot.
Now it is Hart's turn to try to restore the reptuation of England's goalkeepers.
"I know the history; you watch what happens, you hear what happens, but at the same time I don't think you can live in fear. You've got to be ready to take on the challenge and do as best as you can," he said.
"If you think 'what if I do this wrong' it's a terrible way to think. You've just got to go out there and not even try not to make mistakes, just try and do your best, believe in what you can do.
"But if something did happen, I'd have to cross that bridge when I came to it and be strong and confident that it was something I could just sweep under the carpet."
Hart was sat on the bench in Rustenburg just yards away when predecessor Green made his World Cup howler, so he knows exactly how the pressure of being England's goalkeeper can give even the toughest character nightmares; but he also learned from the way the West Ham man dealt with his error.
"There was a situation against USA in the first half but after that I thought he did great and he came out and was great about it," Hart said.
"It hurt him like anyone because he didn't want to let the team or the country down and it meant so much to him. But at the same time you have to move on because it can cost you.
"Yes, it's pressure situation because it is a big job to be given but it is an exciting one as well.
"I think you've got to embrace the situation and enjoy it because if you live in fear it's no good. These are the best times of your lives and you've got to enjoy them."