Viet Nam's Hoa Phat yesterday had to settle for a 2-2 draw with Victory SC in a thrilling Group D match of the AFC Cup 2007 in the Maldives.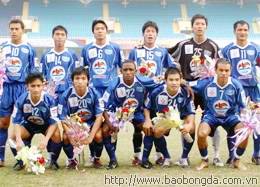 Hoa Phat Club
The visitors enjoyed a 1-0 lead at half-time and a 2-1 advantage near the end of the game.
Juselio Da Silva broke the host side's defense before firing into the net in the 13th minute.
Victory SC rallied in the second-half and Ibrahim Shiyam equalized in the 72nd minute.
Santos Williams put Hoa Phat back in front four minutes later with a powerful header from Le Van Luu's cross.
Hoa Phat looked set for victory but Vietnamese defender Pham Hai Nam's own goal in the closing stages of the second half gave the host side one point from the match.
Hoa Phat will host the next encounter with Victory on April 24.