Vietnam finished second in the friendship Millennium Thang Long-Hanoi Cup after U23 Kuwait held U23 Australia in a scoreless draw Friday night at My Dinh National Stadium. North Korea gained the trophy.
The four teams competed in a round-robin format in the Vietnamese capital from Sep. 20 to 24. The winners were those who gained more points than all the others.
After the first two rounds, North Korea, with six players taking part in the 2010 FIFA World Cup in South Africa in the summer, possessed six points. Both Vietnam and U23 Australia had three points each after one win and one loss. The Kuwait team had no points after two losses.
With six points, a draw with Vietnam was enough for the Koreans to take the trophy. They presented a well-organized defense system to prevent attacks from the other side and played counter-attacks to create chances for their fast strikers.
The match started with the Koreans playing low but became open after about 15 minutes. Notably, just minutes before the break, a finish by Pak Kwang Ryong would have become a goal if Vietnam defender Huynh Quang Thanh had not cleared on the goal line.
Three minutes after the break, Vietnam midfielder Nguyen Vu Phong's shot outside the penalty box beat North Korea goalkeeper Ri Myong Guk but the ball hit the left goalpost.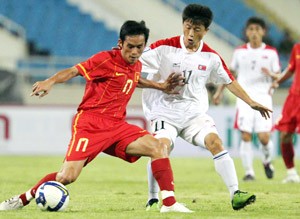 Vietnam midfielder Nguyen Vu Phong (L) battles for the ball against North Korea midfielder Mun in Guk at My Dinh National Stadium in Hanoi on Sep. 24, 2010 (Photo: SGGP)
The Korean side played more carefully with more white shirts in front of their goal. The all-red hosts kept attacking. Vietnam's Portuguese coach Henrique Calisto strengthened the forward line by replacing Nguyen Trong Hoang, Nguyen Minh Phuong and Le Tan Tai with Nguyen Thanh Luong, Phan Van Tai Em and Le Quang Hai, respectively.
The home side put more pressure on the other side but they hit a firm wall led by goalkeeper Ri Myong Guk. No goals were scored in the end.

In the earlier game of the day, U23 Australia were held to a scoreless draw by U23 Kuwait.
Vietnam and the Aussies gained four points each but the hosts came second due to goal difference.
The champions received a cash prize of US$20,000, runners-up Vietnam US$10,000, and the third team US$5,000.
The tournament was seen as a warm-up for the Vietnamese team to prepare for the Southeast Asian Championship - AFF Suzuki Cup 2010, co-hosted by Indonesia and Vietnam from December 1 to 29, where they are in Group B with Singapore, Myanmar and the runner-up team in the qualifying round.