BEIJING, Aug 4, 2011 (AFP) - Inter Milan coach Gian Piero Gasperini on Thursday batted away persistent questions about his Dutch midfield star Wesley Sneijder, who is wanted by Manchester United.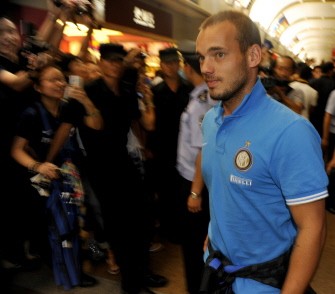 AFP - This photo taken on August 2, 2011 shows Dutch footballer Wesley Sneijder (R) of Inter Milan arriving at the Capital airport, prior to the Italian Super Cup 2011 in Beijing
The Italian giants play their great rivals AC Milan in the Italian Super Cup on Saturday in Beijing, but speculation about Sneijder is set to overshadow the action on the field.
English press reports have claimed the Dutchman is on the brink of joining United for 35 million euros and wanted to finalise his deal rather than play in China.
But Gasperini laughed off this rumour.
"Whether Sneijder will play or not play is a question I cannot answer right now. He's played many positions in the past and I'm sure he can find a position on my team," Gasperini said, smiling.
"I think there is a bit of misinformation flying around, in fact a lot," he added.
"I've realised that when it comes to Inter, people exaggerate situations that don't exist.
"I on the other hand have found a very calm atmosphere here.
"It's normal during the transfer window that there are rumours especially revolving around a club like ours which has great players.
"But the truth is that until now there has been no movement (regarding Sneijder) and we're here to play our game, regardless of everything."
Attempting to move on from the Sneijder question, Gasperini called the Super Cup -- his first -- his "most important (match) yet" and played down the stifling heat and humidity in the Chinese capital.
The pitch at the Olympic Stadium, better known as the "Bird's Nest", was "better than most in Italy", he said.
Gasperini is the third coach to take the reins at Inter within a year since Jose Mourinho moved on to Real Madrid.
Following the short-lived tenures of Rafael Benitez and Leonardo, Gasperini wants to stamp his mark on the team, but he says Saturday's showpiece is too early to judge the work he's doing.
"I don't think that's right but you're always judged, even in inferior teams," he said.
"I've arrived at Inter following a journey that isn't insignificant.
"This is a game in which we're playing for an objective (the Supercup) and then there will still be time to build our season."
Like his two predecessors, Gasperini has already been forced to field questions about Mourinho, who guided Inter to a historic treble in 2010.
"In truth Mourinho and I have never got to know each other, we only faced each other on the field," said Gasperini.
"But I've always thought that he was an excellent coach with great tactical and technical abilities, not just mediatic ones."
The Super Cup is the season curtain-raiser between the Serie A champions, which was AC Milan last season, and the Coppa Italia winners.
Inter captain Javier Zanetti said his side would be going all out to make up for the disappointment of losing the Super Cup to Lazio at the same venue in 2009.
"We played well in Beijing two years ago but we didn't win. That's in the past. This year, we're here to take the Cup home to Italy," said the Argentine, who is six matches shy of becoming Inter's most-used player.