The awards ceremony for the second International Hong Kong-Nha Trang Sailing Regatta took place at the Nha Trang Sailing Club yesterday evening. Earlier that afternoon, the racing yachts put on a performance at the beach on the foreside of Nha Trang's town square.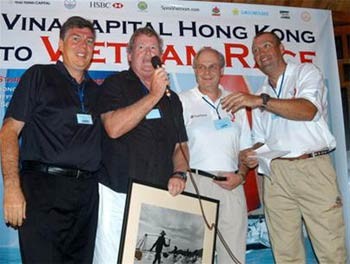 Director-general of HSBC and the Strewth's crew will support HK$10,000 and US$1,000 to the children's fund of Khanh Hoa province. (Photo: TTO)
The yachting competitors were categorized by one of four groups:  the IRC A (International Racing Certificate), the IRC B, the IRC Premier Cruising and the Multihull racers. In the afore listed order, the first place winners were the UK's Island Fling, Hong Kong's Barnstormer, Australia's HSBC Strewth and Hong Kong's Atmosphere.
Renowned photographs from the Vietnamese artist Long Thanh will be awarded to the winners. The racing yachts will leave Nha Trang on November 1st for a visit to Thailand and Malaysia with a return date to Hong Kong set for November 6th.



Related article:
Vietnamese Will Partake in International Sailing Regatta