Julio Baptista's future at Arsenal is in doubt after he revealed he is struggling to adjust to playing in the Premiership and life in England.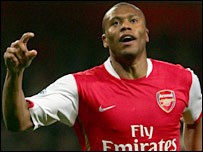 Baptista scored in Tuesday's win over Manchester City
The 26-year-old is on a season-long loan from Real Madrid as part of a swap deal for Jose Antonio Reyes.
Baptista told The Times: "The weather over here is killing me. We get one day of sunshine for every 30 days of rain.
"The Premiership is very hard. I enjoy making clever touches but the game is so fast I don't have time to think."
There is still a possibility of Baptista's switch being made permanent but the Brazilian indicated he would rather return to the Bernabeu at the end of the season.
"I could stay at Arsenal but right now I can't see myself anywhere for definite," he explained.
"But it is clear in my mind that I'd tackle a second chance with Real with far more maturity than I did my first.
"My girlfriend and my mother are frightened about not seeing the sun in England. They miss being in Madrid."
Baptista, known as 'The Beast', has not been impressed by some of Arsenal's rivals.
"The teams from the north of England are terrible," Baptista said. "When we play them, I have counted their centre-backs booting up to 30 long balls upfield per game.
"The moment you stop to think, someone has taken the ball off you and knocked you to the ground.
"Over here they value a corner kick more than a fancy flick. I am lucky to be with Arsenal, as they are a team that likes to play proper football."