Bayern Munich president Franz Beckenbauer has admitted England midfielder Owen Hargreaves could be sold to Manchester United this summer.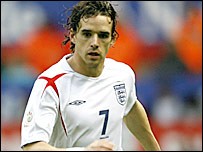 England star Hargreaves wants a move home (Photo: BBC)
The Bundesliga giants have so far refused to grant the 26-year-old's wish to leave for Old Trafford.
But Beckenbauer, speaking on German television, said: "If it is right there is an offer of 25-30m euros (£17-20m), then I would seriously consider it.
"I think the board also think this way to satisfy the needs of the player."
Hargreaves has been a long-standing United target and the player has expressed a desire to play in England.
So far, Bayern have refused to deal with the Premiership leaders and suggested Hargreaves should honour the new four-year contract he signed last summer.
But a United bid of up to £20m could be enough to get their man this summer.
Hargreaves said: "I will sit down with Bayern and we will discuss how my future looks."