AC Milan goalkeeper Dida could miss the first leg of their Champions League semi-final against Manchester United on 24 April because of a shoulder injury. The Brazilian sustained the injury when he collided with the post during a Serie A match at Messina.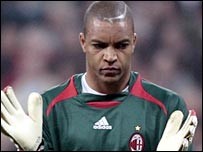 Keeper Dida is a vital member of the Milan team
"We're worried," Milan doctor Jean Pierre Meersseman told the Gazzetta dello Sport.
"We want to get a better understanding of the situation but we can't yet because Dida's shoulder is swollen."
Dida was making a save during Milan's 3-1 win when the incident happened but played on and did not start to feel pain until after the match.
Meersseman added that a shoulder injury like Dida's normally requires eight to 10 days to heal - which would make the 33-year-old a major doubt for the match at Old Trafford.
"Naturally, the goal is Manchester but there's not much hope," added Meersseman.
"On Thursday, if the swelling has gone down we will carry out more tests."
The return leg is on 2 May.