MANCHESTER, May 23, 2009 (AFP) - Sir Alex Ferguson insists he was surprised that Rafa Benitez did not congratulate after Manchester United pipped Liverpool to the Premier League title.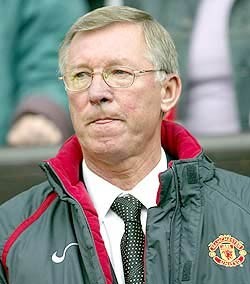 Sir Alex Ferguson
United manager Ferguson has been embroiled in a series of high-profile spats with Liverpool boss Benitez as the two clubs battled for top spot in England.
Benitez launched a remarkable outburst at Ferguson in December, in which he claimed the Scot was able to influence the fixture list to help United and tried to intimidate referees into favouring his team.
Ferguson responded in typically waspish manner and the feud bubbled right through the season.
Yet Ferguson traditionally makes a point of congratulating the manager who wins the Premier League and he was taken aback that Benitez didn't do the same.
"I was surprised," Ferguson said. "But really, it was a great season for us and I am not that worried about anyone else."
Meanwhile, Ferguson believes it is time the Premier League scrapped the rule which is supposed to force managers to play their best team in every game.
The regulation was put forward earlier this week as the reason Middlesbrough, Sunderland and Newcastle might take legal action against Manchester United for the team they are likely to put out at Hull.
"It has never been practical for years now," Ferguson said. "Richard Scudamore has more or less said that and he is chief executive of the Premier League, so he is speaking from a position of authority.
"The modern day game is about a squad. Everyone uses it, even teams fighting down at the bottom.
"The days when Liverpool won the league only using 14 players are no longer possible. Nobody even thinks about that now."