The Asian Badminton Championship came to an end on April 3, 2006. Malaysia as the host of the event was considered the most victorious team after having earned the two essential victories in the Men's Single and Men's Double events.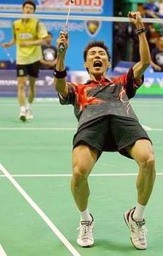 Lee Chong Wei's happiness after winning the Asain Badminton Championship title
In the Men's Single final, the first seed Lee Chong Wei (Malaysia) defeated the World Number one Lindan of China 2-1 (17-15, 9-15, 15-9) in an eighty eight minute match to earn the second champion tittle in the year. Chong Wei won  US$9,600 (RM36,480) for the champion title, whike runner-up Linda received 5,000USD.
In the Men's Double event, Choong Tan Fook - Lee Wan Wah (Malaysia) over came Hoon Thien How -Tan Boon Heong at 2-1 in the final.
Viet Nam also sent its top players to the event. However, Vietnam's run came to an end when Nguyen Tien Minh, World No.82 lost to Hasim (Malaysia), World No.59 at 0-2. Despite their short-lived campaign at the championship, the Vietnamese players benefited from their exposure to such a big tournament, through which not only their technical skills but also competing experience can be much better improved.