In Tuesday morning swimming athletes are taking part in swimming competitions.  
 
Australia's Leisel Jones won the Olympic Games women's 100m breaststroke title here on Tuesday.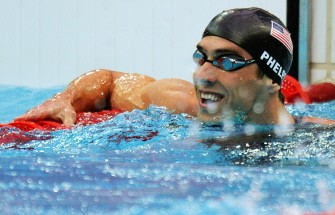 US swimmer Michael Phelps smiles after the men's 200m freestyle swimming final at the National Aquatics Center in the 2008 Beijing Olympic Games on August 12, 2008. (AFP Photo)
American swimming marvel Michael Phelps won his third gold medal at the Beijing Olympics with another world record swim in the 200 metres freestyle final on Tuesday.The 23-year-old world champion smashed his own world record by 0.90sec in a time of one minute 42.96 seconds. It was his ninth Olympic gold medal overall after he won six at the 2004 Athens Olympics.
American Aaron Peirsol lowered his own world record in the men's 100m backstroke Tuesday, winning Beijing Games gold in a time of 52.54sec. Peirsol, winner of both the 100m and 200m backstroke gold in Athens, improved his previous record of 52.89 set at the US trials in Omaha, Nebraska, on July 1. Peirsol has owned the record since 2004, first breaking it in Athens.
American Natalie Coughlin defended her Olympic 100 metres backstroke crown with victory in the final at the Beijing Games on Tuesday.The 25-year-old world champion won in an American record time of 58.96 seconds, just 19/100ths of a second outside the world record set by Zimbabwe's Kirsty Coventry of 58.77 in the the semi-finals on Monday. It was Coughlin's third career Olympic gold medal and confirmed her as the foremost backstroker in women's swimming.
Olympics medals table at start of Tuesday:
                             Gold Silver Bronze Total
China 9 3 2 14                          
South Korea 4 4 0 8
United States 3 4 5 12
Italy 3 3 2 8
Australia 2 0 3 5
Japan 2 0 2 4
Great Britain 2 0 1 3
Czech Republic 2 0 0 2
Netherlands 1 1 1 3
Spain 1 0 1 2
Finland 1 0 1 2
Azerbaijan 1 0 0 1
India 1 0 0 1
Romania 1 0 0 1
Thailand 1 0 0 1
Russia 0 4 2 6
France 0 3 2 5
North Korea 0 1 3 4
Cuba 0 1 1 2
Germany 0 1 1 2
Austria 0 1 0 1
Colombia 0 1 0 1
Hungary 0 1 0 1
Norway 0 1 0 1
Slovakia 0 1 0 1
Sweden 0 1 0 1
Turkey 0 1 0 1
Vietnam 0 1 0 1
Zimbabwe 0 1 0 1
Brazil 0 0 2 2
Indonesia 0 0 2 2
Algeria 0 0 1 1
Argentina 0 0 1 1
Belarus 0 0 1 1
Croatia 0 0 1 1
Georgia 0 0 1 1
Switzerland 0 0 1 1
Tajikistan 0 0 1 1
Uzbekistan 0 0 1 1
Taiwan 0 0 1 1