When victory and defeat are decided in the blink of an eye, getting the most out of your vision is vital.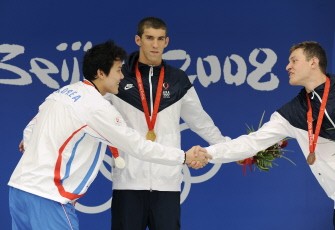 Second placed South Korean Park Taehwan (L) shakes hands with third placed US swimmer Peter Vanderkaay as winner US swimmer Michael Phelps (C) looks on at the podium after the men's 200m freestyle swimming final at the National Aquatics Center in the 2008 Beijing Olympic Games on August 12, 2008. (AFP Photo)
For retired US sprint legend Michael Johnson and British Olympic heptathlete Kelly Sotherton, seeing better is believing. Both are backers of vision improvement programs for athletes that have helped several Beijing Olympians.
"I certainly see the advantage of it," Johnson said. "Athletes have to use every tool at their disposal to be the best they can be. That's exactly what I was doing when I was an athlete."
Johnson won the 200 and 400 meters double at the 1996 Atlanta Olympics and the 400 in 2000 at Sydney. Had the evolving technology to improve eyesight for a competitive edge been available in his heyday, Johnson would have used it.
"Many athletes are surprised that one of the tools they rely on the most, their vision, is not 100 percent effective and they find they needs lenses or corrective surgery to make the most out of their skills," Johnson said.
"Sports vision training and testing are very important to performance and can help athletes improve other skills as well. The faster they can process the information, the better they are able to use it on the field of play."
For Sotherton, better vision meant a greater focus on other areas in training.
"If I can improve these skills, I can worry about something else I can control," she said. "It's going to help me train better and be more skillful."
British vision specialist David Ruston introduced Sotherton to the sight development program, which includes exercises to strengthen eye muscles and testing to better move average eyesight to perfectly clear vision.
"She has made great progress," Ruston said. "It's her opinion that she is throwing the javelin farther and she clips hurdles less often because she can better judge the spaces."
Sir Clive Woodward, the British Olympic Association's director of elite performance, brought vision improvement ideas to England's rugby union team, which he guided to a 2003 World Cup title.
Woodward had some of the world's greatest rugby players train one day with a patch over one eye, the confusing mess that followed teaching a lesson about how vital vision can be.
"The results were quite dangerous and quite amusing," he said. "Players were running into each other."
Now Woodward has an eye to the London 2012 Olympics and helping boost British athletes, who have entries in every sport four years from now as hosts.
"We think we're getting an advantage over the other countries and that's great," said British badminton player Nathan Robertson.
"If I can get that split-second advantage on my opponent because my eyes work so well, I can get that 200 mph smash back," British badminton player Gail Emms said.
More than 300 athletes worldwide have been analyzed at sport vision centers with China instituting a new program ahead of the Beijing Olympics.
"Seven hundred athletes have gone through the program with 50 of them fitted for contact lenses," Chinese vision specialist John Ang said.