After a goalless 120 minutes, Viet Nam beat Malaysia 6-5 in a penalty shoot-out to win its first tournament abroad at the Merdeka Cup at the National Stadium in Bukit Jalil on Saturday.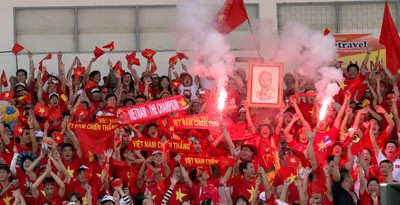 The joy of Vietnamese fans when Viet Nam defeats Malaysia to win Merdeka Cup
While the home team launched consecutive attacks right from the beginning of the match and dominated the proceedings, they failed to create many clear cut chances and could not penetrate the Vietnamese defense.
The Vietnamese team launched several swift counter attacks, putting a lot of pressure on the Malaysian defense as the first half ended goalless.
In the second half, Viet Nam continued to be firm in defense, and the hosts could make no headway. Thirty minutes of extra time also failed to open the score.
In the penalty shoot-out, Malaysia's dream of defending the cup ended after defender Norhafiz Zamani Misbah failed to convert his spot kick with the score tied at 5-5.
Mai Tien Thanh later became Viet Nam's hero when his kick defeated Malaysian goalkeeper Mohd Helmi Eliza Elias, after goalkeeper Tan Truong had saved Malaysia's sixth penalty shot.