Arsenal chairman Peter Hill-Wood has reassured fans that coach Arsene Wenger will stay at the club following the departure of vice-chairman David Dein. Dein is credited with bringing Wenger to Arsenal in 1996 but left the club on Wednesday because of "irreconcilable differences" with the board.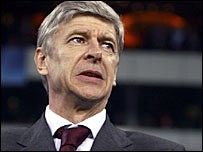 Dein was influential in Wenger's arrival at Arsenal
However, Hill-Wood told Arsenal TV Online: "The relationship that Arsene has with the board is good.
"He is on contract until 2008 and we hope he will extend beyond that."
Hill-Wood added: "It's well known that Arsene and David have got on very well over the past 10 years and I am certain that Arsene will miss him."
Dein, who holds 14% of shares in the parent company of the Gunners, will cease to be a director after leaving because of differences concerning the direction and ownership at the club.
Dein, 63, is thought to be in favour of Stan Kroenke's involvement at the club after the American billionaire recently bought a 9.99% stake in the club, and that has put him at odds with Hill-Wood.
But the chairman has been keen to stress that Dein's departure was not due to a lack of transfer funds available to Wenger.
"We've always made funds available to Arsene, he attends the board meetings, he understands the financial position," said Hill-Wood.
"I can assure supporters that we will continue to provide funds when Arsene requires them.
"We have a very good squad - young, maybe, but developing well - and if Arsene wants to strengthen it we have the money to provide him with any reasonable purchases he wants to make."