JOHANNESBURG, June 9, 2010 (AFP) - European champions Spain were the latest World Cup contenders hit by an injury scare on Wednesday as reigning champions Italy arrived in South Africa to defend their crown.
Spain, the pre-tournament favourites, have an anxious wait to see if star midfielder Andres Iniesta will be forced to miss their opening Group H clash against Switzerland on Wednesday.
The Barcelona playmaker's leg was bruised as the Spaniards trounced Poland 6-0 in a final warm-up for the month-long tournament which kicks off Friday with a match between South Africa and Mexico in Johannesburg.
The Spanish Football Federation said Iniesta faces a week out of action after he underwent a scan, but it did not rule him out of the clash in Durban.
There was happier news for the Spaniards as they bid to win the tournament for the first time when striker Fernando Torres scored in the match in Murcia after two months out following knee surgery in April.
Coach Vicente Del Bosque admitted he was delighted by the return to form of the player who netted the winner in the Euro 2008 final against Germany.
"We have finished our preparations and we can go to South Africa in good spirits," he said.
Italy coach Marcello Lippi's men, including nine of the players from the squad which triumphed four years ago in Berlin, were guarded by dozens of police when their plane touched down in Johannesburg.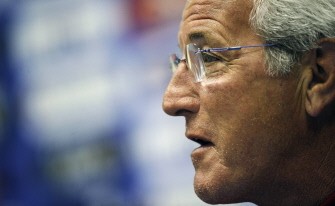 Italy's coach Marcello Lippi speaks during a press conference at Cornwall Hill College in Irene, south of Pretoria, on June 9, 2010. AFP photo
They headed for Leriba Golf Lodge outside Pretoria to prepare for their opening Group F match against Paraguay in Cape Town on Monday.
Italy have rarely shone since their triumph against France in the 2006 final, but football federation chief Giancarlo Abete insisted it would be a mistake to write them off.
"Italy are world champions, that should not be forgotten, but you cannot deny that other teams have done better than us in the last few years," Abete said during the flight to South Africa.
"For everyone the favourites are Brazil, Spain, Argentina and England, but we've got great belief."
History is against the Italians -- no country has won back-to-back World Cups since Brazil in 1962.
Lippi has lost key man Andrea Pirlo to a calf strain for the Paraguay game and the playmaker faces a race against time to be involved in any group games.
Italy and Spain's injury concerns are minor compared to some of their chief rivals.
Michael Ballack of Germany, Rio Ferdinand of England and Nani of Portugal are high-profile absentees from the entire tournament, while Ivory Coast captain Didier Drogba and Netherlands star Arjen Robben face a race against the clock to be fit.
Switzerland also had an injury worry on Wednesday when captain Alex Frei hurt his right ankle in training.
Dutch playmaker Wesley Sneijder insisted impressive pre-World Cup form counted for little as Holland embark on another major tournament praying their high hopes do not evaporate when the going gets tough.
Wins over fellow qualifiers Mexico and Ghana and a 6-1 mauling of Hungary have indicated the Dutch are in the form to launch a concerted bid to win their first World Cup.
Sneijder, fresh from winning the Champions League with Inter Milan, told AFP the only match that mattered now was the first Group E clash next Monday against Denmark in Johannesburg.
"We're not interested in being the world champions of friendly matches," he said.
Chile defeated New Zealand 2-0 in a friendly thanks to goals from Gonzalo Fierro and Estedan Parades, but the post-match formalities ended chaotically.
Argentina-born Chile coach Marcelo Bielsa saw a South African man burst in as he prepared to hold a news conference and demanded he vacate the room in the depths of the stadium in KaNyamazane, a town near the eastern World Cup city of Nelspruit.
Officials dealt with the issue as the man protested that the room had been allocated to a catering firm waiting to receive the New Zealanders.
After a brief altercation Bielsa was able to continue with his debrief.