JOHANNESBURG, June 20, 2010 (AFP) - Ivory Coast must have hoped for easier opposition than Brazil Sunday as they attempt to restore African pride at the World Cup.
High pre-tournament hopes that a record six-team assault would see the host continent make a major impact at the tournament for the first time have not been realised with just one win and four draws from 11 matches.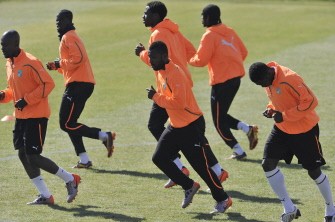 Ivory Coast's football squad trains on June 19, 2010 in Sharpeville. AFP
Only Ghana have triumphed - edging Serbia 1-0 via an Asamoah Gyan penalty - and the daunting prospect of no African side among the last 16 can no longer be ignored.
The odds will be against the Ivorian Elephants at the 90,000-seat Soccer City stadium as Brazil World Cup group losses are as rare as warm Highveld nights during the South African winter.
Brazil may not have sparkled when defeating North Korea 2-1 in their Group G debut, but are bound to improve once they inevitably settle into the Samba rhythm that has made them champions a record five times.
Midfielder Kaka is sure to improve on a subdued showing against the highly organised Koreans and so will Luis Fabiano, the man the South Americans are relying on most for goals.
Sven-Goran Eriksson-coached Ivory Coast showed true grit when slugging it out with Portugal in a goalless Port Elizabeth stalemate and the second half appearance of captain and star striker Didier Drogba can only boost morale.
A broken arm in a warm-up game against Japan threatened to keep the reigning African Footballer of the Year away from the World Cup, but he wore a protective cast and seemed unaffected.
It could be a classic with the loyalties of South African supporters divided between their traditional love of Brazil and the desperate need for another African victory.
Defending champions Italy should secure their first win of the tournament in Nelspruit against New Zealand, who snatched an injury-time 1-1 draw with Slovakia thanks to a Winston Reid header.
There was a similar result in wet and gloomy Cape Town between the Azzurri (Blues) and Paraguay, leaving each Group F contender with one point and renewed hope.
Slovakia coach Vladimir Weiss was so unhappy at the late Kiwi goal that he ordered barbed wire be placed around the training pitch to prevent his squad being distracted by media.
Paraguay face the Slovaks in Bloemfontein and the winners will fancy their chances of progressing to the second round as runners-up while Italy remain favourites to top the table.
Nicolas Anelka, Netherlands, Australia and Cameroon shared the Saturday headlines with the France striker sent home for a foul-mouthed tirade after coach Raymond Domenech queried his positionial play against Mexico.
Netherlands became the first qualifiers for the last 16 after successive wins, Cameroon the first team to be eliminated after successive losses and Australia held Ghana despite having Harry Kewell sent off on 25 minutes.
Both France and England meanwhile grappled with slumping team morale at their respective training camps following dismal performances to date.