Vietnam has new hope in Judo champion Van Ngoc Tu, who will represent the country at the London Olympics 2012, after a miserable performance 16 years ago at the Atlanta Olympics in 1996 when Cao Ngoc Phuong Trinh failed to leave a mark.
In the 2011 SEA Games, Tu was defeated by a Thai opponent after a mere 16 seconds, but she never regretted taking part in high-profile tournaments like the Asian Judo Championships, would helped her gain back her confidence and improve her skills.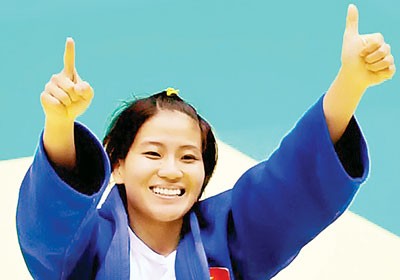 Van Ngoc Tu - new hope in Judo champion
In the qualifying round for London in Tu's category, one Kazakhstan sportswoman won the first round and Tu was only a runner up.
However Tu was still accepted for the London Olympics because Kazakhstan's Judo League withdrew in the 48 kg category to concentrate on the 78 kg category.
Vietnam's Van Ngoc Tu will not only compete against tough rivals in the Olympic qualifying rounds but she will also take part in the Judo Grand Prix in Singtao in China. 50 sports men and women from 50 countries and territories will take part in this tournament.
Le Duy Hai, coach of the Vietnam Judo team, said the weakest point of the Vietnamese Judo athletes was their lack of competitive experience.
Meanwhile, Vietnam laid hopes in its wrestling team including freestyle female wrestlers Nguyen Thi Lua (in the 48kg category), Tran Thi Dieu Ninh (55kg), Duong Thi Lan (59kg), and Luong Thi Quyen (63kg).
All team members will compete in the Olympic qualifying rounds except for Lan whose weight category will not be included in the Games.
According to Nguyen The Long, head of the Wrestling Department of the National Sports Administration, Quyen is the team's greatest hope for gold in the championship in London this summer. She has a lot of experience in international competitions and most of the strong rivals in her category have already secured Olympic berths.
Long said the athletes would participate in all rounds, including the Asian zone round from March 30 to April 1 in Kazakhstan, the first world round from April 27-29 in China and the second world round from May 4-6 in Finland.
Vietnam's Tran Thi Dieu Ninh bagged a silver medal in the 55kg freestyle wrestling event on February 17 at the 2012 Asian Wrestling Championships.
After this tournament, Dieu Ninh will prepare for the Olympic qualifying rounds.
The Vietnamese wrestling team will compete at the Asian Wrestling Championships in South Korea from February 16-19 as part of their preparation for the 2012 London Olympics.