ROME, Sept 13, 2010 (AFP) - Juventus coach Luigi Delneri has dismissed his team's title chances after just two Serie A games, insisting they are not ready yet to challenge.
Juve earned their first point of this campaign in a thrilling 3-3 draw with Sampdoria on Sunday in a game they probably should have won due to their second half dominance.
But having twice taken the lead after the break they were soon pegged back on each occasion by stubborn opponents who now have four points from their first two games.
Having finished seventh last season in their worst ever Serie A campaign -- that included record numbers of defeats and goals conceded -- Juventus are rebuilding and Delneri added 10 new players since joining the club in the summer.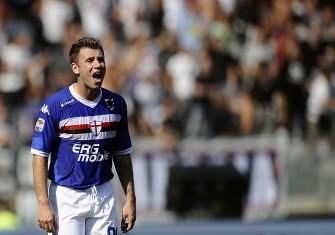 Sampdoria's forward Antonio Cassano shouts during his team's match against Juventus on September 12, 2010. AFP
Just by being Juve they are expected to fight for the scudetto but Delneri isn't listening.
"Juve for the title? No, others will play for that, we're a normal team," he said.
Delneri insisted he was expecting things to be difficult but expressed his belief that his team have come on since their 1-0 defeat at Bari in the opening game.
"We were expecting difficulties. Our difficulties against Bari were also because of a physical impasse given that we'd not stopped playing for two months, as well as due to Bari's ability," he added.
"This time the team was in better physical shape to meet the challenge. We need time to be more clinical, even if we were at times.
"We've overcome the problems we had in Bari but now we have to overcome the defensive problems that allowed Sampdoria to equalise.
"(Antonio) Cassano will always have the individual quality to shoot from distance, you can't stop that but you have to contain him.
"But we played our game, Sampdoria have good players. We have to be more clinical and read the game better than we did on their second goal.
"I want the team to be more effective and we can be if we can continue to play as we did in the second half."
Nicola Pozzi had given Sampdoria the lead on 36 minutes when he slammed home a pass from Cassano.
Claudio Marchisio restored parity two minutes before the break from Milos Krasic's knock down.
Simone Pepe put Juve in front on 50 minutes, although TV replays showed him to be offside, only for Cassano to level matters with a curled effort.
Fabio Quagliarella, again from a marginally offside position, made it 3-2 but a Pozzi header secured Sampdoria a share of the spoils.
One thing that did please Delneri was the form of his wide players Krasic and Pepe, although he substitutd both late on.
"Krasic played better in the second half when both he and Pepe had more of the ball and troubled the Samp defence," said Delneri.
The coach believes his team will also improve when they get their injured players back to full fitness.
"We'll check on Amauri's condition (on Monday) but (Jorge) Martinez isn't ready yet," he added.
"We have to take things slowly with (Alberto) Aquilani and also (Vincenzo) Iaqunita who played a half hour."
Juve aren't the only giants to be in trouble as AS Roma are actually below them having been thumped 5-1 at Cagliari on Saturday and AC Milan only have two points following their 2-0 defeat at minnows Cesena.
But despite not playing well, Inter Milan are ominously already on four points following a win and a draw.
Chievo are the unlikely early leaders, though, with maximum points after they won 3-1 at Genoa.