The 15th Viet Nam International Judo Tournament opened in Ho Chi Minh City on Saturday. Judoists from South Korea earned four golds, one silver and one bronze to rank first, leaving the second to Viet Nam.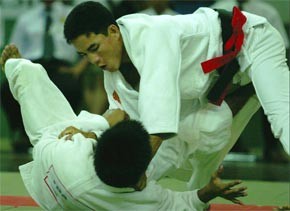 Nguyen Thanh Ba of Viet Nam 3 (over) beats Thailand's Posrikaew in the final of the 55-kg category. (Photo: SGGP)
In fact, four Vietnamese teams (Viet Nam 1, Viet Nam 2, Viet Nam 3 and Viet Nam 4) were competing with judoists from ten other countries and territories. The local players obtained three golds, two silvers and six bronzes.
At the Army's Indoor Stadium, nine weight categories concluded on Saturday.
Viet Nam won the 45-kg women's and 50-kg and 55-kg men's categories. These champions were Vu Hoang Ngoc Nha and Le Xuan Hoang of Viet Nam 2, and Nguyen Thanh Ba of Viet Nam 3, respectively.

On the first day of the two-day tournament, Thailand came third with one gold, three silvers and four bronzes, followed by Japan (one gold, one silver & one bronze), and Myanmar (two silvers and two bronzes).
Related article
Int'l Judo Tourney in HCM City Draws 11 Countries, Territories