Eighty-five cyclists from South Korea, Cambodia and Indonesia took to the road in the first stage of the 19th Ho Chi Minh Television Cycling Race yesterday. The 186 kilometer race begins in Ho Chi Minh City and finishes in Phan Thiet.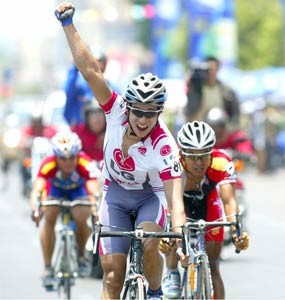 Korean cyclist Oh Se Yong wins the first stage
Seven kilometers from the finish line, Korean cyclist Oh Se Yong broke away from the lead pack to take the yellow jersey for the first leg of the race with a time of 04:35:10.
At present, the Korean team is on top with a total time of 13:46:32, followed by Malaysia at 13:47:48 and Viet Nam's Domesco Dong Thap with 13:47:50.
The cyclists will compete today in the 147 kilometer second stage from Phan Thiet to Phan Rang.