JOHANNESBURG, June 29, 2010 (AFP) - Four referees who found themselves at the centre of embarrassing World Cup blunders left for home on Tuesday after failing to make the shortlist for the remainder of the tournament.
Uruguay's Jorge Larrionda, the man who missed Frank Lampard's 'goal' in England's 4-1 defeat to Germany, is on the hit-list.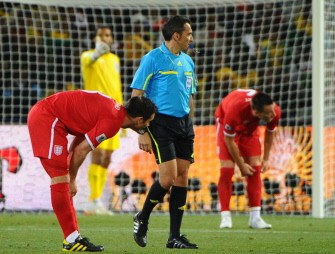 Uruguayan referee Jorge Larrionda (C) blows his whistle next to England's midfielder Frank Lampard during the match Germany vs. England on June 27, 2010. AFP
Italian official Roberto Rosetti, who allowed Carlos Tevez's header to stand despite the Argentinian striker being offside against Mexico, is also heading home.
France's Stephane Lannoy and Koman Coulibaly of Mali also missed out on the list of 19 referees released by FIFA to officiate from the quarter-finals onwards.
Lannoy missed the double handball of Brazil striker Luis Fabiano in the build-up to his goal against Ivory Coast while Coulibaly disallowed Maurice Edu's late strike which would have given the USA a 3-2 win over Slovenia.

Referees retained:
Rashan Irmatov (UZB), Yuichi Nishimura (JPN), Khalil Al Ghamdi (KSA), Jerome Damon (RSA), Eddy Maillet (SEY), Carlos Alberto Batres (GUA), Marco Rodriguez (MEX), Benito Archundia (MEX), Carlos Simon (BRA), Hector Baldassi (ARG), Oscar Ruiz (COL), Pablo Pozzo (CHI), Michael Hester (NZL), Viktor Kassai (HUN), Olegario Benquerenca (POR), Howard Webb (ENG), Wolfgang Stark (GER), Alberto Undiano (ESP), Franck De Bleeckere (BEL)