National striker Le Cong Vinh of the Song Lam Nghe An Club won his second Golden Ball on Monday for player of the year 2006. The Sai Gon Giai Phong's Do Tuan caught up with him at the awards ceremony: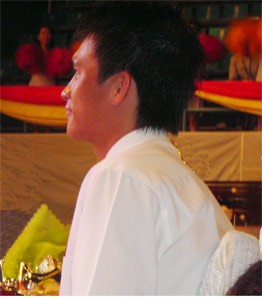 Waiting for the result (Photo: Hoang Uy)
Reporter: This is the second time you have won gold and you have also won silver as well, how are you feeling?
Le Cong Vinh: I'm feeling very proud. In 2005, I didn't play that well, but I won the silver ball anyway because my rivals were involved in the Southeast Games match-fixing scandal. I was only 19 when I won my first Golden Ball in 2004 and that was a really great feeling, but I'm really happy to have won it again.
Some newspapers reported that you had won this year's top prize before the actual ceremony. What did you think at that time?
I was really confused at that time. I had to turn many journalists down who were asking for interviews because I hadn't received any news from the award's organizers. Despite that though, I still believed that I had won it. 
Who were you thinking should have won the top three prizes this year?
Of course, I would have voted for myself to receive the Golden Ball (smiles). For the silver, I would have nominated Nguyen Minh Phuong (national midfielder of the Dong Tam Long An Tiles Club) and for the bronze, my teammate Nguyen Huy Hoang (national center defender of the Song Lam Nghe An Club). In my opinion, Huy Hoang is a very good defender both for our club and for the national team so it's a pity that he wasn't nominated for an award.
How about the top three female players?
In my opinion, Dao Thi Mien deserved the golden ball, Doan Thi Kim Chi the silver and Bui Thi Tuyet Mai should have gotten the bronze.
You have won the Golden Ball award twice now, which one means more to you?
My first Golden Ball in 2004 of course. It was like my first love (smiles). However, this year's award is obviously really great too.
What do you think made coaches, football officials and sport journalists vote for you?
I think they voted for me because of my track record in the 15th Asian Games and V-League 2006.
Because of your leg injury, Viet Nam's Olympic football team will have to play against Oman without you on April 18th for the Beijing Olympic 2008 qualifier. What's the status of your injury now?
After constantly playing dozens of grueling matches for my club and the national team, I'm feeling really exhausted. Football players, especially those who have to play for both their club and the national team, need a vacation every now and then.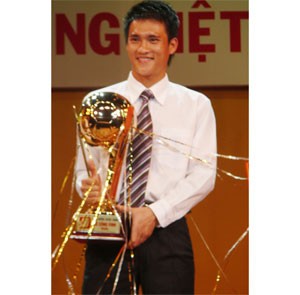 Scooping the golden ball award (Photo: Hoang Uy)
Is winning the golden ball title your biggest ambition?
The Golden Ball award is just prize for the best Vietnamese player in a certain year. My dream is to win the Southeast Asian championship but I will also try my best to break Le Huynh Duc's record of three golden balls.
So what is your target this year?
I will try to recover in time to help the national team move to the third round of the 2008 Beijing Olympics but my biggest target is to attend the final match of the 24th Southeast Asian Games in Thailand by the end of this year.