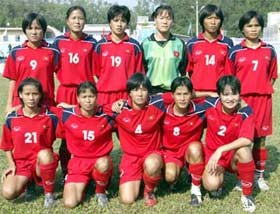 The women's Vietnamese team, three-time Southeast Asian champions
Chinese sports equipment producer Li Ning is to become the jersey sponsor of the men and women football squads of Viet Nam, said Viet Nam Football Federation General Secretary Tran Quoc Tuan.
He added the federation and Li Ning are due to sign a three-year sponsorship contract in Ha Noi this weekend.
This is good news for both squads, especially for the Vietnamese women because it is the first jersey sponsorship for them. The women team has won the Southeast Asian Games three times in a row, 2001, 2003 and last year.
Li Ning is one of the leading sports brands in China. Its products include sports footwear, clothes and accessories for sport and leisure use.
Related link
Li Ning Company