SUNDERLAND, United Kingdom (AFP) – Liverpool owner John W Henry remained coy over Kenny Dalglish's long-term future as Reds manager after a controversial 2-0 win against Sunderland.
A rare public utterance from the billionaire Anfield owner failed to shed much light on the current state of play, as did the latest update by the taciturn Dalglish following the comfortable victory at the Stadium of Light on Sunday.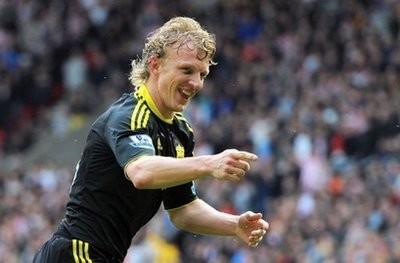 Liverpool's Dirk Kuyt celebrates after scoring the opening goal from a penalty during the match vs Sunderland at the Stadium of Light in Sunderland. AFP
However, after an impressive run of 20 points from Dalglish's 10 games in charge rekindled hope of European qualification, it's a reasonable assumption the 60-year-old's future at the helm is likely to last beyond his current agreement until the end of the season.
"What's going on in that regard is private," Henry insisted after watching as goals by Dirk Kuyt and Luis Suarez sealed the win.
"It's something called the Liverpool way and you do these things behind closed doors. I'm not going to talk about these things, but he's done very well."
Not to be outdone by the American, Dalglish poured cold water on suggestions he had demanded a long-term deal, and he added: "As regards the job, I've seen in the papers I've asked for a four-year contract, but I don't know who I'm supposed to have asked. I also saw that I was offered two but I don't know who sent that in.
"Somebody asked if I'd spoken to the owners. Of course I have, I speak to them every week. They're fantastic and supportive but there's been no detailed discussions about next year.
"Until there's something to be said we can't make it up for you, until then, there's nothing.
"For me that's not a problem. The club has always been the most important thing. I don't have a problem with that. There's no pressure on anyone."
Liverpool trail fifth-placed Tottenham by four points after their sixth league win under Dalglish, and Henry added: "This was a big three points for us because this is a tough place to come.
"There was a really great atmosphere and it's a difficult place to win on the road. I really enjoyed the game.
"The second goal was a great one by Suarez, he looks a heck of a player but we'll have to have a lot of days like today to challenge for fifth place."
Liverpool are bidding to avoid missing out on a place in Europe and Dalglish added: "Those 20 points from 10 games are okay, but it'd be better if it was 30. You don't get everything you want in life I suppose.
"The response from the players has been fantastic, they've got plenty of talent and ability and a great deal of determination and have got their reward. They deserve all the credit."
Sunderland's bid for Europe is fading fast after a fifth defeat in six games sparked by Kuyt's controversial first-half penalty.
Referee Kevin Friend initially awarded a free-kick for John Mensah's foul on Jay Spearing, but changed his mind after consulting his assistant, who incorrectly ruled the foul had taken place inside the area.
"The penalty killed us," Sunderland manager Steve Bruce said. "The referee was 10 yards away and had made the right decision, but he allowed himself to be over-ruled by his assistant who was 70 yards away.
"It turned into one of those horrible afternoons. It was one of those days where if something was going to go wrong it did. Up until their goal there wasn't very much in it.
"Maybe it's time for technology to be brought into play. I knew and (fourth official) Martin Atkinson knew within five seconds the foul was outside the box. It's a blatant error and we hope he will learn from that."