The People's Prosecution Bureau on February 28 approved prosecution against Duong Manh Hoa, the driver of Bui Tien Dung – director of Project Management Unit 18 of the Ministry of Transport, who was detained in January 2006 for gambling.
The driver has reportedly bet on European football matches. Besides, he kept and transferred money for his boss Dung in the bets. Money transfers had often taken place at a coffee shop on Ly Thuong Kiet Street in Ha Noi's Hoan Kiem District, or in front of the Viet-Xo Culture, Labor and Friendship Palace on Tran Hung Dao Street in the same district.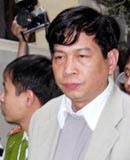 Bui Tien Dung
Police are tracking down origins of houses actually owned by Bui Tien Dung but all related documents bear someone else's name.

Dung reportedly owns eight houses and villas. At least three villas have been built with illegal money. One of them is a villa worth billions of dong in the new residential area Trung Hoa-Nhan Chinh. According to police, a partner of PMU18 has bought the villa and given it to Dung, and he gave it to his son.
Police said they have evidence that Bui Tien Dung has committed bribery when he bought an expensive flat in the new residential area My Dinh to give to a mistress of his boss, a singer, as a gift.
In relation to the PMU 18 case, on February 28, police started another investigation into football betting by a rather famous female singer.