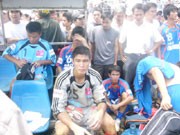 Da Nang football team
Typhoon Xangsane ("big elephant" in Laotian) has ripped up much of the central coast but the national football championship in Da Nang will continue in the hope of dispelling some of the gloom.
"The city was heavily damaged by the storm early on Sunday. Destruction and devastation is everywhere. Still, we decided that the matches should continue at Military Zone 5 stadium," said Le Nguyen Hong, director of the Da Nang Department of Physical Training and Sport. "Conceivably, football is the only thing that can bring pleasure back to the people of Da Nang. We expect the repair of Chi Lang Stadium to be completed in time for the semifinals."
However, the morale of the host team (Da Nang) and the Binh Dinh team, whose hometowns were hardest hit by the typhoon, is down, way down.
Yesterday, the Da Nang players were allowed to return to their homes for a bit while the Binh Dinh boys could hear from their families via TV and a poor telephone connection. 
The four matches scheduled for today are Nam Dinh vs. Ca Mau, Da Nang vs. Hoang Anh Gia Lai, Thanh Long vs. Tien Giang, and Binh Dinh vs. Huda Hue.