On December 27, the 2007 National Billiards and Snooker Championship completed its competitions with five gold medals for the Ho Chi Minh team, two gold medals for Ha Noi and one gold medal for Da Nang.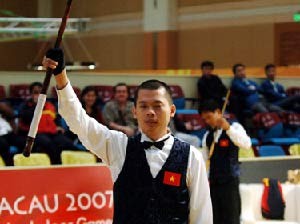 Duong Anh Vu accomplishes his golden task in 3-cushion category
Duong Anh Vu, Ho Chi Minh's first seed, accomplished his golden task in his three-cushion category after his absence from his one-cushion category.

He had a weak start with a 28-30 lose in the qualification round to his teammate, Ngo Dinh Hai, however, he soon recovered his strength and passed all the next rounds to possess an opportunity to compete in the finals and meet Hai again.

During the final, Vu excellently extended the loosing streak of his old opponent to 30-18 and gained a gold medal, raising his 2007 golden collection to five golds (three national and two international).
In this category, Hai gained a silver medal while Nguyen An Toan grabbed a bronze.

The English billiards category saw the 2006 champion Nguyen Thanh Long, Da Nang's player, keeping his highest position safe from his opponent, Nguyen Thanh Binh also known as his younger brother with a landslide 2-0 victory.

Ha Noi's billiard player Nguyen Trung Kien gained a bronze medal after a 2-1 victory over Ho Chi Minh's billiard player Truong Van Anh.

The medal table listed the top three including Ho Chi Minh City with 4 gold medals in one-cushion, three-cushion, male eight-ball pocket billiard and women 9-ball pocket billiard, Ha Noi with 2 golds in snooker and men 9-ball pocket billard and Da Nang with only one in English billiard.

The 2007 National Billiards and Snookers Championship, also known as San Miguel-Tan Loc Cup, was held in the Can Tho's Sport Training Complex during 22-27 December.

Related articles:
Success Expected for VN's Duong Anh Vu in World Cup Billiards