Vietnamese cyclist Do Tuan Anh, of Domesco Dong Thap Vinasun, won the fifth stage of the 19th Ho Chi Minh Television Cycling Race yesterday. The 130-kilometer race began in Da Lat City and finished in Bao Loc town.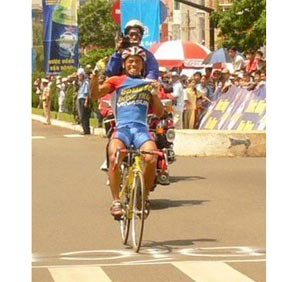 Vietnamese cyclist Do Anh Tuan wins the fifth leg
Ten kilometers from the finish line, Tuan and Korean cyclist You Ki Hong broke away from the lead pack.

The Vietnamese cyclist then got the better of the Korean rider in a two-up sprint to the finish with a time of 2:22:59.
Aside from Do Anh Tuan's blue jersey, team Domesco Dong Thap Vinasun also added a fourth-place finish by Trinh Phat Dat's to their campaign.
The victories helped the team achieve first place in the fifth stage with a combined time of 7:10:33 and consolidated its second position overall after the first five stages.
The Korean team, meanwhile, is in first place with Oh Se Yong wearing the coveted yellow jersey, followed by Domesco Dong Thap Vinasun and Vinamit.
The cyclists will compete today in the 130 km sixth leg from Bao Loc to Bien Hoa.