Huynh Van Son repeated his 2005 success yesterday by winning the 2007 national golf tournament at the Palace Golf Course in Da Lat.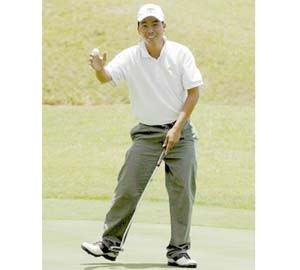 Huynh Van Song, champion of the 2007 National Golf Tournament
Son from the Vietnam Golf and Country Club in Ho Chi Minh City scored his second title with a 74 on the final day to bring his total for the 72-hole tournament to 296 strokes.
The runner-up was last year's champion, Nguyen Van Thong, also from the Vietnam Golf and Country Club, with a score of 300.
Their clubmate Tran Trong Tien came in third with 306 and was followed in fourth place by Vo Ta Thuy from the Long Thanh Golf Club with 316 strokes.
The top six place-getters will represent Viet Nam at the SouthEast Asian Games and other golf tournaments abroad.
Fifty six golfers entered the four-day tournament, which was sponsored by US-based Danao International Holding Ltd., Pham and Partners, the Sofitel Dalat Palace Hotel and Vietnam Airlines.