Viet Nam's Hoa Phat Ha Noi yesterday suffered a shameful 2-0 loss to the Maldives' Victory Sport Club at Ha Noi's Hang Day Stadium in their Group D second-leg encounter of the AFC Cup 2007.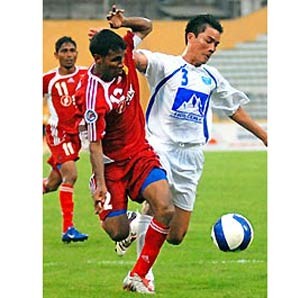 Nhu Thuan (right) of Hoa Phat Ha Noi clashes with a Maldives striker in Tuesday's game
The host side produced a spiritless display even though their opponents are really just amateur footballers.
The first chance to open the scoring came to the Vietnamese side in the 12th minute when midfielder Cong Manh picked up striker Williams' low pass from the right, but his shot drifted out for a goal kick.
The visitors responded four minutes later with a close-range shot by midfielder Shiyam Ibrahim that went just wide.
Victory SC took the lead in the 37th minute when Ali Ashad left Hoa Phat's defense trailing to power in a header with ease from a right free kick by Ashfan Ahmed.
Hoa Phat midfielder Le Anh had a good chance to equalize five minutes later when he was left unmarked in the penalty area from a Williams cross, but the Maldives goalkeeper denied him.
The Vietnamese side threw in striker Das Silva, Alphonse and Hong Nam in the second half, but still could not trouble the visitors' defense.
It was Victory Sport Club who struck next and again it was Ashad who scored, this time from close range following an Adam Lareef cross in the 81st minute.
"Since Hoa Phat has lost several games in a row in the V-League, we have to ignore the AFC Cup and fully concentrate on the V-League. Right now my mind is on the important clash against Thanh Hoa this weekend. Still, I am very disappointed at our poor display today," said Hoa Phat coach Vuong Tien Dung after the game.