Malaysian megafirm, Berjaya Corporation Berhad (BCB), is to become official sponsor of the fourth rank Dong Nai Football Team in 2008, confirmed a BCB representative in a press release shared with the Dong Nai People's Committee Tuesday.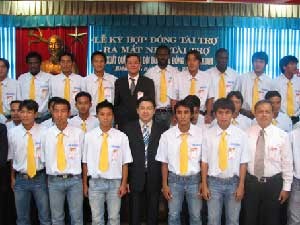 Berjaya Corporation Berhad and the Dong Nai Berjaya's footballers at the press conference
BCB has signed a US$1-million three-year sponsorship contract, US$400,000 for 2008 and US$300,000 for 2009 and 2010 and the team is to be renamed the "Dong Nai Berjaya".

BCB Vietnam General Manager Nguyen Hoai Nam said BCB was duly impressed with the performance of the Dong Nai team last season and expect even more improvement next year.

At the Alphanam-Fuji Cup 2007, Dong Nai saw 12 wins, 6 draws and 8 losses and gain 42 points to Dong Nai team for a snug fourth place in final rankings. The team is also lauded for it spirit of fair and professional attitude.

In preparation for the 2008 season, Dong Nai Berjaya is to welcome six new locals and one foreign player. Six Vietnamese under-19 players are also to finish their training and appear in the team's official lineup.

The team's 2008 target is to stay safely in the national ranking's top five.