The 2007 Viet Nam Outstanding Athletes and Coaches Poll (VOACP) officially opened for voting yesterday, aiming at finding the most outstanding coaches and athletes in Viet Nam Sport.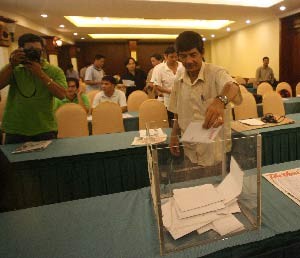 Sai Gon Giai Phong reporter Nguyen Nhan joins the poll
The electoral unit consisting of 200 reporters from news agencies and newspapers from all over the nation will vote for the top five outstanding coaches and ten outstanding athletes.

The operators proposed a nominee list which included 64 coaches and 23 athletes; however, reporters are able to add their own nomination for new outstanding talents to the list if they are appropriate for selection.

According to most reporters yesterday morning, athlete Truong Thanh Hang, was the most popular on the list due to her excellent record at the 2007 Asian Games and the 24th Southeast Asian Games.

The other, most admired nominees for the top ten athletes included Vu Thi Huong, Nguyen Huu Viet, Nguyen Dinh Cuong, Vu Van Huyen, and Nguyen Xuan Hung. The top five coaches saw a higher wave of some salient nominees including Ho Thi Tu Tam, Le Cong, Nguyen Dang Khanh, Le Van Suc.

The poll's results will be announced on 31 December 2007, with the 30th annual award ceremony scheduled to be held on 25 March 2008.

This yearly poll has been held nationwide by Ho Chi Minh Communist Youth Union, the Ministry of Culture, Sports and Tourism of Viet Nam and the Viet Nam Olympic Committee.