A scintillating display by Shandong Luneng gave the Chinese team a 4-0 win against Dong Tam Long An in their Group G encounter of the AFC Champions League 2007on Tuesday.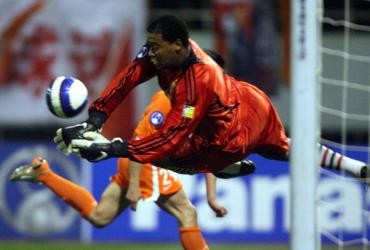 The heroics of Santos were not enough to deny Shandong
The visitors from southern Viet Nam knew their hosts were too strong so they unsurprisingly decided to play defensively in the main and hope for a draw.
The first scoring chance came in the fifth minute when Vietnamese midfielder Viet Thang powered a fierce header from Tuan Phong's long cross, but the ball sailed just wide.
Shandong Luneng fought back with a powerful volley from the Chinese national midfielder Wang Yongpo in the 17th minute, but goalkeeper Santos dived in time to deny him.
Serbian midfielder Aleksandar Zivkovic forced a save from Santos with a dipping shot in the far corner one minute later. The Vietnamese side tried to respond and almost pulled off a goal when Minh Tri picked up Santos' long throw from the left flank and bamboozled the opponents with a strong run but his final shot crossed over the bar.
Wang Yongpo went close when he fired a dipping shot from close range in the 33rd minute, but Santos did well to get his fingertips to the ball.
Han Peng opened the scoring after 42 minutes when Zivkovic and Cui Peng combined and delivered a perfect pass into his path, and the Chinese striker made no mistake.
Shandong Luneng dominated the second half and soon enjoyed a 2-0 advantage thanks to a second goal by Han Peng. In the 52nd minute, Santos blocked Han Peng's quick shot from close range but could not react quickly enough when the ball bounced straight back to the Chinese striker.
Three minutes later it was 3-0 when a touch by Li Jinyu sent the ball into the path of Wang Yongpo, who took advantage of the confusion in Dong Tam Long An's box to fire the ball home.
Li Jinyu made it 4-0 before full time with a powerful header from close range in the 74th minute.
For the Vietnamese side, Brazilian goalkeeper Fabio Santos was the best player in the second half with his excellent saves to deny Wang Yongpo, Aleksandar Zivkovic and Cui Peng.
Dong Tam Long An ended the match with only 10 players. Phan Van Giau was sent off four minutes from time after receiving his second yellow card for a reckless high challenge of Cui Peng.
Shandong Luneng: Li Leilei, Shu Chang, Yuan Weiwei, Nikola Malbasa, Jiao Zhe, Aleksandar Zivkovic (Wang Xiaolong, 76), Wang Yongo (Li Wei, 63), Zhou Habin, Cui Peng, Han Peng, (Lu Zheng, 67) Li Jinyu
Goals: Han Peng (42, 52), Wang Yongpo (54), Li Jinyu 74
Booked: Zhou Habin
Dong Tam Long An: Fabio Santos, Van Giau, Quang Trai, Minh Tri, Minh Phuong, Tai Em, Tuan Phong, Thanh Giang, Hoang Thuong, Viet Thang (Van Khai, 69), Tshamala
Sent-off: Van Giau (86)