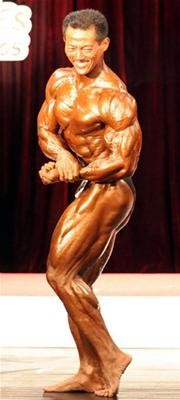 Ly Duc competes in a tournament in Viet Nam
Vietnamese top bodybuilder Ly Duc has bid farewell to the Viet Nam team at the age of 41.
The muscleman, who has won the Asian Championships seven times, earned five Southeast Asian gold medals, silver and bronze medals from international and regional tournaments in the 80-kilo category, has decided to stop competing for Viet Nam.
Experts say Ly Duc, still in good shape now, is not too old for bodybuilding and his personal decision is sad news for the national team, who are gearing up for the 15th Asian Games in Qatar late this year. 
He is still practicing every day and working as an assistant for the national team' coaching board.

Head coach Huynh Anh says Duc is not in the list of bodybuilders who will represent Viet Nam in the 15th Asian Games.

Ly Duc shows his muscles
Mr. Anh adds he still wants Ly Duc to continue competing for the national team though he respects the muscleman's personal decision. The coaching board has prepared an alternative – bodybuilder Giap Tri Dung, the Asian 2005 silver medalist.
Duc became a bodybuilder in the mid-1980s and has been awarded the Order of Merit from the Government for his achievements.