The Viet Nam Football Federation (VFF) held an official press conference on Friday to explain their SEA Games failures to football fans. Fans, however, were dissatisfied with the VFF's rationales, some even accusing the VFF of employing irrational arguments in its own defense.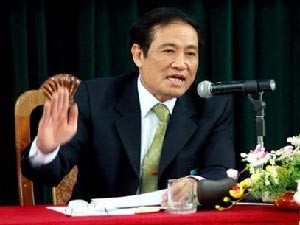 Chairman Nguyen Trong Hy answers questions of at the press conference
According to previous Coach Mai Duc Chung, all U-23 players had to play 60 matches, not only international but also national.
He reasoned they had to do their best during the bulk of matches and easily got exhausted by the last meets, the final meets being at the SEA Games, and hence their disappointing results.
Viet Nam made a similar mistake in 1966, when the Northern team had gone into training in the Soviet Union in preparation for the upcoming Games of the New Emerging Forces (GANEFO).
The team's leader made a misguided choice and turned training sessions into grueling competitions. By the time the GANEFO meet came around, players were too exhausted to perform, said National Coaching Board Nguyen Chairman Sy Hien.
The majority of guests at the press conference, however, blamed the SEA Games failure on the VFF's poor planning of the players' 2007 schedules.
Some at the conference suggested the VFF had forgotten it primary mission this year, the SEA Games. Others said the VFF had been over-confident and ignored advice from others.
Instead of taking responsibility for this serious mistake, the VFF shifted responsibility onto its former Secretary General Phan Anh Tu, and even onto the Fédération Internationale de Football Association.
They blamed Tu for signing the team's former Head Coach Alfred Riedl.

They said Riedl's contract gave him exclusive authority over the team and the VFF thus could not overrule his decisions during the season.

Then they indirectly blamed FIFA for the inflexibility of Riedl's contract.

Two new suggestions, however, were raised Pham Ngoc Vien, Director of the National Sports Training Center I, and Le Hung Dung, VFF Vice-Chairman.

Vien proposed the loss was caused by the team's leaders misunderstanding human biology.

The team's coach had chosen evenings for training, thus interfering with players' rest times.

While most matches are played around 3 pm, Vietnamese players' "body clocks" had been conditioned to have the players at their peaks at other times.

Riedl, who has resigned, had to take most responsibility for this, Dung argued, since he had concentrated on the Asian Cup and qualification rounds for the Olympics and lost focus on the SEA Games.

Dung said Riedl was considering a contract with the Qatar team. So, during the team's match with Qatar, Riedl wanted to show off his best formation in an attempt to gain a better contract with Qatar.

The conference ended with an apology from Hy. But it was not well received by guests who apparently wanted more than a mere apology, perhaps a comprehensive admission of guilt, some reporter said.