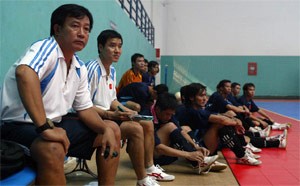 Coaches Nguyen Van Long (white, left) and Nguyen Hong Son (white, right) watch their boys outplay Myanmar.
Viet Nam beat Myanmar 6-4 yesterday to move to the semi-finals of the Asia Football Federation's Futsal Cup 2007.
It was Viet Nam's second victory in the tournament, the first being their 6-0 thrashing of Brunei.
Myanmar led 3-2 going into the break but the Vietnamese players Van Khuong, Dong Kha, Anh Khoa and Bao Quan came good in the second half to score four goals and sink their opponents.
The host nation Thailand is now at the top of Group B, followed by Viet Nam with 6 points. Tomorrow Viet Nam meets Australia, the leader in Group A.