Cao Son and Van Thanh of Viet Nam became one of the world's top beach volleyball pairs by getting through two rounds of the 2007 Asian Beach Volleyball Tours in Thailand from April 11 to 16.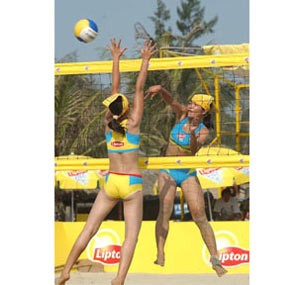 Vietnamese spiker Cam Hong (behind net) in action in the Asian Beach Volleyball Tours 2007
The Vietnamese duo, who were ranked 16th out of the 24 pairs in round one, showed great resolve in bouncing back from their opening 2-0 defeat against the best pair from Indonesia 1 to record convincing victories over Sri Lanka 2 and Iran.

The respective match scores of 2-0 and 2-1 did not do Son and Thanh justice.

They only bowed out of the tournament after losing to Australia and Thailand 1 in straight games to finish in sixth place.
The other strong Vietnamese spikers, Cam Hong and Thi Tiep, ended up coming eighth out of the 22 teams in their section.

In the first round, they lost 1-2 to Thailand 3 and 0-2 to China but scored 2-0 against Malaysia 2 to advance to the next round.
The pair produced a dazzling display to defeat Malaysia 2 and Indonesia 2 in straight games in round two.

Cam Hong and Thi Tiep overpowered New Zealand 2-0 in the knockout round, but were defeated 0-2 by the Chinese and Kazakhstan pairs to finish in eighth place.