The Viet Nam Football Federation (VFF) announced in a press conference yesterday that the National Football Championship 2008 will again be sponsored by the Vinkansai Cement Company (VCC) and consequently renamed as the "Vinakansai Cement Cup 2008".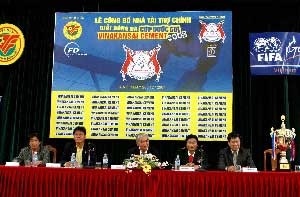 The press conference of Vinakansai Cement Cup 2008

This is the third time Vinakansai has been main sponsor of the event since 2005. 
 
According to Vinakansai Director Nguyen Quoc Phong, they are generally satisfied with the quality of the 2007 championship and will maintain their sponsorship until their four-year contract signed with VFF expires in 2009.
 
The competition's first draw for Round 1/16, on December 29th, is to be a competition between 22 teams. Other teams have a prerogative not to compete in this round, like current V-League champions Binh Duong, current National Football Champions, DPM Nam Dinh, the Halida Thanh Hoa club, Binh Dinh and the Hoa Phat Ha Noi,. 
 
Vinakansai announced a first prize of VND250 million (US$15,625), a second prize of VND125 million (US$7,812) and two third prizes of VND50 million (US$3,185) each. 
 
The National Football 2008 champions are to later compete with the V-League 2008 champs in a special round called "Super Cup 2008". 
 
Tourney operators are to also add rewards for the winners after every round, including VND10 million (US$625) for the winner of Round 1, VND20 million (US$1,250) for Round 2 and VND30 million (US$ 1,875) for Round 3.
 
The VCC Cup 2008 will kick off January 6th and run to late August. There are 27 official teams joining the game, of which 14 are V-League candidates.