After losing 0-2 to Japan on April 7, Viet Nam's 2008 Beijing Olympics campaign took another blow yesterday as Korea beat them 2-1 at home.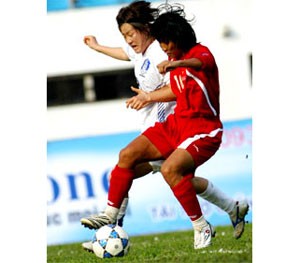 Viet Nam (in red) started off well but couldn't hold Korea off
The visitors played offensively with long balls at the outset but the host side took the lead 25 minutes into the game when playmaker Kim Chi out-jumped Korean defenders before heading a left corner into the net.
Korea rallied strongly, but could not break the host side's resistance in the remainder of the first half.

The game was tied at 1-1 soon after the break, however, when Kim Ju Hea outflanked Vietnamese defender Ngoc Anh, before delivering a perfect long cross to Ji So Yun, who finished with a precise header to the net in the 56th minute.
The visitors took advantage of the Vietnamese team's fatigue in the second half to take a  2-1 lead over them when Ji So Yun scored a penalty goal following a foul against Kim Ju Hea by Vietnamese defender Dao Thi Mien inside the box.
"It was really disappointing for us after such a good start. We were well prepared for the game but Korea played a strong offensive game and overcame our resistance to their highballs", coach Ngo Le Bang said after the match.