COLOGNE, Germany, Sept 7, 2010 (AFP) - Germany coach Joachim Loew said he was pleased to see his side reproduce some of their dazzling World Cup form in the 6-1 rout of Azerbaijan in Tuesday night's Euro 2012 qualifier.
Having struggled to beat Belgium 1-0 in Brussels last Friday, Germany reproduced some of their form in Cologne from their successful campaign in South Africa which saw them finish third.
Striker Miroslav Klose took his tally to 55 international goals with a double on his 103rd appearance while Cologne forward Lukas Podolski answered his critics with a well-timed goal and then set up Klose in a slick display.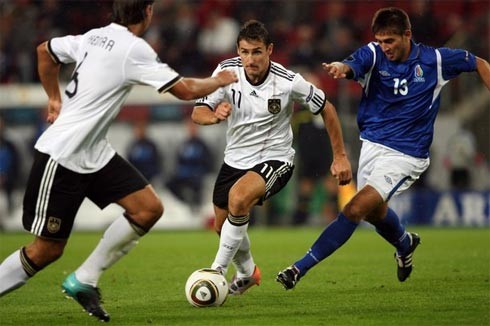 Klose (C) in the game (AFP)
Germany top Group A, but Turkey also have a 100 percent record after two games as they beat Belgium 3-2 earlier in Istanbul with Germany set to face Turkey in Berlin on October 8.
"The team produced some more top football and some of the combinations worked very well," beamed Loew, who will coach Germany through to the Euro 2012 finals in the Ukraine and Poland.
"It was fun to see that, we have been working on things since even before the World Cup.
"You can sense that things are becoming automatic now.
"It was noted that (Lukas) Podolski was willing to put in a lot of leg work.
"He shows his strength in the national side and his goal ratio (41 goals in 81 games) speaks for itself."
Interestingly, Loew said he had not seen Germany captain Michael Ballack in the Cologne stadium, as he recovers from the ankle injury which kept him out of the World Cup.
"I let him decide, everyone needs to decide for himself," said Loew.
In Ballack's absence, Philipp Lahm skippered the side and was pleased with the six goals, despite the second-half consolation goal by Azerbaijan striker Vagif Dzavadov.
"Six goals scored - so we can be satisfied," said Lahm.
"This team likes to play football for fun and score goals.
"In spite of conceding a goal, we can all be satisfied."
Azerbaijan coach Berti Vogts said the result was acceptable, but he lamented the two late goals from centre-back Holger Badstuber and Klose as the guests' defence capitulated.
"The result is fair. We were too passive. We conceded silly goals in injury time," said Vogts, who is a former German national coach and guided them to the Euro 96 title.
"Germany plays in another league to us, they are a different class."